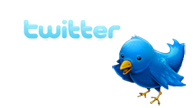 Popular actor
Ashton Kutcher
has become the first person to achieve 1 million followers on
Twitter
this week, beating out
CNN
as the first to the milestone.
"We have shown the world that the new wave is here,"
Kutcher
said of the milestone.
"It is present and it is ready to explode. You guys are all of it because I can't follow me."
CNN
was long the leader in the race, but Kutcher pulled off a rally in the last week that brought massive media attention to CNN, Kutcher and Twitter in general.
The breaking news page has since past the 1 million follower mark, and
Britney Spears
is within hours of passing the mark as I write this article.
Kutcher
adds
that Twitter is "removing filters between celebrities and fans, big media companies and their customers."
Now that the "race" is over however, all eyes are on Oprah Winfrey, who recently joined the site and gained 130,000 followers in under 24 hours.