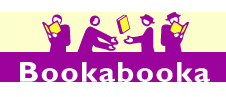 Finnish book rental service
Bookabooka
is being
threatened
by national copyright lobby organization
TTVK
for running a service the lobby group calls "Pirate Bay for textbooks".
Bookabooka doesn't host any e-books on its site, but instead allows students to rent their textbooks to their peers. Renting is conducted via traditional "snailmail"
(i.e. postal service)
and it is mandatory that the textbooks are originals
(not xeroxed copies)
. Bookabooka acts only as an intermediate, connecting the students together and doesn't handle the shipping or returns of the textbooks.
Despite these "small" differences between TPB and Bookabooka, The Finnish book publishers' association
(Suomen Kustannusyhdistys)
is convinced that Bookabooka is breaking the copyright legislation and threatening their business. Annual school textbook sales in Finland were worth more than €100M in year 2007.
TTVK
demands (PDF, in Finnish)
that the service must be shut down by Friday this week or they'll sue the company. Bookabooka's founders have already stated that they wont respond to the threats, but instead will keep the service running.