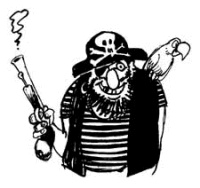 Despite its operators being
found guilty
of making 33 files available for illegal download, infamous Bittorrent tracker website The Pirate Bay is still operating pending appeal. But there have been other casualties in the form of private tracker communities, many of which have closed down in the aftermath of the Pirate Bay trial.
One tracker based in Sweden, NordicBits, replaced their website with a simple page explaining
"We have to shut down the site now due all circumstances. We don.t have time to do anything to the code, we don.t have interest to it, we don.t have any more money and the biggest reason is The Pirate Bay info."
TorrentFreak
is reporting
a dozen or more trackers will be shutting down soon.
No doubt the entertainment industry will spin this as a victory for copyright holders,
like the verdict
itself. Considering the history of file sharing, it's hard not to find that a little naive.
Even before the Pirate Bay trial began,
there were signs
people were moving to other services like MegaUpload, and even to Usenet thanks to providers like Giganews and UseNeXT. There's no evidence to suggest taking down some search engines and punishing a handful of people is going to make file sharing go away.
Napster was
shut down
in 2001 and its owners sued. File sharing didn't disappear. It became decentralized.
Grokster was sued
out of the P2P business
in 2005 and file sharing didn't disappear. Their users just switched software and file sharing networks.
Torrent trackers from
ShareReactor
to
EliteTorrents
have been shut down by law enforcement officials. Some disappeared for good while others came back. Meanwhile file sharing traffic has increased steadily.
If you accept the fact that file sharing won't be shut down, the next logical question is how, as a content owner, to turn P2P into profit. There are many ideas around about accomplishing that.
One thing that isn't likely to work is driving it underground to make it look like you beat the pirates.