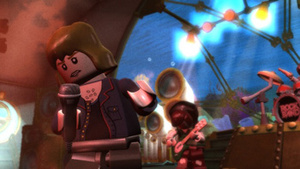 Warner Brothers
has confirmed that it is infact working on a new
Rock Band
game that will feature
Lego
characters. The deal is already in place with
Harmonix, MTV
and the
Lego Group
, and the game will be available on the
Xbox 360, PlayStation 3, Wii
and the
DS
handheld.
"Lego Rock Band combines two compelling properties and creates an experience that family members of all ages will enjoy playing together as a group,"
said Tom Stone, managing director of TT Games (part of Warner).


"Harmonix and MTV Games are the world experts in music gameplay, and we're genuinely thrilled to bring the unique and humour-filled Lego experience to their Rock Band universe."
Bob Picunko, of MTV,
added
:
"Harmonix and MTV Games are big fans of the Lego game franchise and excited to work with TT Games to develop a new take on Rock Band that focuses on great music and Lego humour that's fun for the whole family."
So far the only songs known are
:
"Boys and Girls" (Good Charlotte)
"Kung Fu Fighting" (Carl Douglas)
"Song 2" (Blur)
"So What" (Pink)
"The Final Countdown" (Europe)