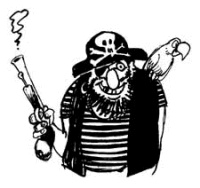 In the aftermath of the
Pirate Bay verdict
a week ago, some torrent trackers have
already ceased operation
to protect the individuals who own and operate them. Those that haven't are apparently becoming targets for a movie industry backed anti-piracy group.
According to
TorrentFreak
, Antipiratbyrån, sent the following to the operators of one such tracker, SweDVDR.
"We noticed that you, through the activities with swedvdr.org, similarly engaged in copyright infringement of several works whose rights belong to our principals. You are hereby requested to immediately take the necessary measures to prevent the ongoing incursions."
Antipiratbyrån's letter went on to say they were recommending the studios they represent take legal action if this isn't done immediately. SweDVDR is closing down as a result.
Unless
The Pirate Bay's appeal
goes well, it doesn't look like Sweden will be a friendly place for torrent trackers.