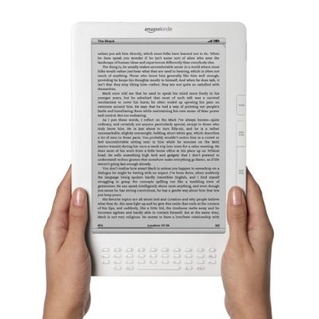 Yesterday Amazon officially announced the latest addition to its line of eBook readers, the Kindle DX. It features a 9.7 inch screen, which has two and a half times the area of the standard Kindle.
"Personal and professional documents look so good on the big Kindle DX display that you'll find yourself changing ink-toner cartridges less often,"
said Jeff Bezos, Amazon.com Founder and CEO.
"Cookbooks, computer books, and textbooks – anything highly formatted – also shine on the Kindle DX. Carry all your documents and your whole library in one slender package."
Besides the increased screen size, the Kindle DX also adds PDF support and auto-rotation of the image similar to the iPhone. The changes are designed to open new markets for which the small size of the original isn't suitable.
Arizona State University, Case Western Reserve University, Princeton University, Reed College, and Darden School of Business at the University of Virginia will all be trying out the new Kindle by distributing them to a sampling of students for use as a textbook reader.
"The Kindle DX holds enormous potential to influence the way students learn,"
said Barbara R. Snyder, president of Case Western Reserve University.
"We look forward to seeing how the device affects the participation of both students and faculty in the educational experience."
Newspapers are also planning to get into the act. Major publications like the The New York Times, The Boston Globe, and The Washington Post will be offering the Kindle DX for a discount to subscribers of their new Kindle editions in markets where home delivery isn't available.
The Kindle DX is available for pre-order now from Amazon.com. It will start shipping this summer.
Its price of $489 is $130 more than the standard Kindle, which
reportedly has
a 100% profit margin.
Its hard to imagine many people paying nearly $500 for an eBook reader, although given the price of textbooks it may actually be a pretty reasonable deal for college students.