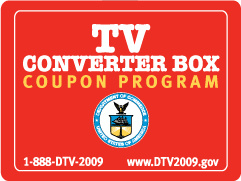 According to the
Federal Communications Commission (FCC)
, the federal hotline set up to hear calls relating to the
mandatory DTV transition
has had over 700,000 calls since Friday morning, the day the analog signals were cut off.
200,000 of the calls were related to the federal coupons towards digital converter boxes, perhaps implying a significant amount of people still do not have the right equipment to receive digital signals.
Another 200,000 calls were from consumers who have the boxes but were confused on how to operate them successfully. The FCC told many to "re-scan the airwaves for digital frequencies," and says 99 percent of the problems were solved.
Many others called about problems with reception, which is a much deeper problem than simple converter box issues.
"Our job is far from over,"
said
FCC Chairman Michael Copps.
"This transition is not a one-day affair. We have known about re-scanning and reception issues for some time and have been doing our best to get the word out."

The most callers came from the Chicago, Illinois area, but significant calls came from Dallas, New York, Philadelphis and Baltimore as well.
The Commerce Department recently reported they had sent out coupons for over 60 million converter boxes, but were still receiving over 100,000 requests a day, even during the last week. Research firm
SmithGeiger LLC
says there are probably still over 2 million households which are not prepared, despite repeated warnings and a full marketing campaign by the government. The most likely groups to not be prepared? Minorities, people over 65, and people under the age of 35.