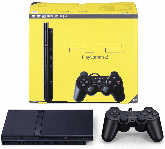 As was the case
earlier this year
, the
Sony PlayStation 2
remains the most played console by gamers, despite the fact that the
Nintendo Wii
has been the best selling console for over 2 years.
According to the latest
Nielsen
figures, the
PS2
accounted for just over 22 percent of all minutes gamers spent playing video games in April followed closely behind by the
Microsoft Xbox 360
which accounted for 21 percent. The
Wii
lost month-on-month, falling from 21 to 18 percent. The
PS3
lagged behind at 11 percent.
In terms of games,
World of Warcraft
on the PC continues to dominate, accounting for 44 percent of all total minutes played in the month. In second place is the popular game
Second Life
, which accounted for only 6 percent of minutes. Warcraft gamers also averaged about 10 hours of playing time a week for the game, says Neilsen, second only to
Lord of the Rings: Shadows of Angmar
, where gamers spent on average 15 hours per week playing.