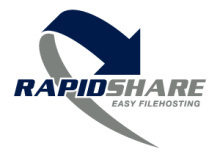 Last week, the file-hosting giant
Rapidshare
lost a case
to the German copyright society
GEMA.
As part of the ruling, Rapidshare was told to "proactively filter" over 5000 tracks from GEMA's catalog and make sure they are not distributed on their servers.
Rapidshare has announced this weekend that they will in fact be
appealing the verdict
.
GEMA created a software that can search web forums and extract links that infringe on GEMA's copyrights. Rapidshare however, scoffs at the software, claiming it does not work.

"It's questionable whether the application can deal with mechanisms to prevent the scraping of links, open encrypted files, accurately identify audio files or find links in forums that can't be accessed by search engines."
They of course are correct, as the software will not be able to identify mislabeled files, password protected
RAR
files, and more notably, files posted in private
Warez
forums.
Rapidshare CEO Bobby Chang also noted that GEMA is following in the footsteps of the
RIAA
, which will in turn alienate their own fans and customers.

"GEMA is trying to turn back time,"
he concluded.