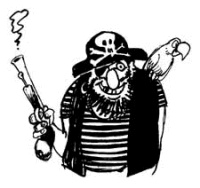 A French man who illegally downloaded 12,591 music tracks, 426 movies and 16 complete TV series has been sentenced to a 2 months suspended jail sentence and been forced to pay a 33,000 euro fine this week.
The collection was first discovered in 2006 when authorities were searching the man's house on an unrelated fraud case warrant. The man is a retired IT expert and used the defense during his trial that the collection was for private use, not commercial. He also added, says
TF
that he "believed he had been acting within the law."
The court did not agree.
The plaintiffs, which included the National Federation of Film Distributors,
Sony
, Paramount, Sacem and SCPP were asking for 2 euros for each unauthorized
MP3
, and 7.50-12.50 euros for each movie. It was unclear what was paid for each TV episode.