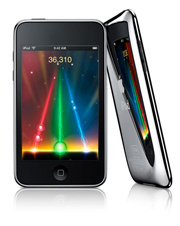 According to reports by
TechCrunch
and
MacRumors
,
Apple
has ordered a large amount of cameras normally used in iPhones, suggesting that an upcoming iPod Touch will include the cameras.
Says
TC
, Apple has
"placed an order for a massive number of camera modules of the type they include in the iPhone. These are inexpensive cameras, in the $10 range. And the size of the order, our source says, means they can only be used for one thing - the iPods".
MR
posted a pic of what they are calling an 'iPod Touch 3G' case, which includes a hole in the back for a camera.
Any upgraded Touch would most likely include a bump in
RAM
, an updated GPU and a faster processor as well.