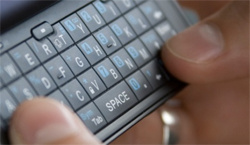 According to
WCBS
, 15-year-old Alexa Longueira was walking in Staten Island, New York last week, texting on her phone when she fell into an open manhole, recieving minor injuries.
She also lost a shoe in the sewage. Speaking of the incident Alexa says her fall was
"really gross... shocking and scary."
Now obviously, the accident was not entirely the girl's fault. There were no warning signs around the unattended manhole. A nearby
Department of Environmental Protection
worker pulled her out and continued his job of flushing the sewer after. The Department then issued an apology for the lack of orange cones or warning signs.
Despite the lack of warning signs however, many observers almost completely blame Longueira for not seeing an open manhole and being completely detached from her surroundings.
The problem of texting has been in the news of late especially in regards to driving, where a string of accidents have been attributed to distracted
drivers
texting while behind the wheel.