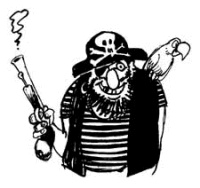 A man in Sweden has been arrested this week over alleged piracy, after 10,000 pirated films were found on a server in his cellar.
Police in Västerås were following a tip from the Swedish Anti-Piracy Agency
Antipiratbyrån (APB)
and raided the man's house.
The arrested man is believed to be a member of a file sharing release group or a
warez
site uploader, but there are no other suspects as of yet.
"We shall have to await the results of the technical investigation. As the case in question concerns a server there could be other file sharers either here in Sweden or abroad, it is too early to tell,"
district chief Fredrik Inglad added, via
TheLocal.
.
The APB says the server had over 90 TB of copyrighted materials.


"We regard the man to be one of the leading figures behind the 'warez scene' syndicate which is responsible for all pirate copying. The police operation will help to stem the flow of pirated material onto the internet,"
added Henrik Pontén, an ABP lawyer.