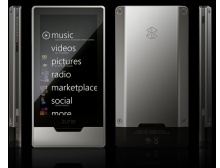 Arstechnica
has been in touch with
Microsoft
over recent rumors that the
Zune HD
will be a US-exclusive, and unfortunately for those hoping for an international release, the rumors happen to be true.
Says the Redmond-based behemoth:
"For the time being the Zune HD device will remain US-only. Right now we are focused on deploying an exciting service in the form of Zune Video to 18 markets. We are looking at potential future hardware experiences for these markets, but do not have anything to announce right now."
The move follows that of the original hard-drive based Zune, which was released in America in 2006 and nowhere else until it hit Canada in 2008.
The upcoming Zune HD device features a 3.3-inch OLED touchscreen with 480 x 272
resolution
and
16:9
display. It will also include HD radio, Wi-Fi, and
720p
HD output via
HDMI
.
We recently reported that Microsoft was discontinuing all other Zune models that don't end with "HD,"
killing off the Zune 8, 16, 80, and 120 models.
Microsoft has had trouble breaking into the
MP3
player market, while
Apple
recently announced
iPod market share at 73.8 percent
.