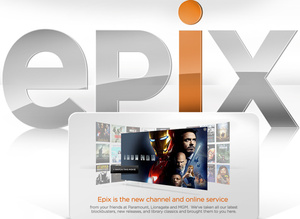 In June,
the three major motion picture studios,
Lionsgate, Paramount,
and
MGM
jointly announced the launch of
Epix
, an
HD
online
streaming
service and HD TV station that will allow users to watch the studio's films, in HD.
The studios have said this week that the expected launch date of late October is still in the cards, and launch day will see blockbuster films on the service, including "
Iron Man
."
Epix is, technically, a studio-controlled venture that will give cable operators and distributors an easier way to shop for rights for movies on video-on-demand and online video. It may all sound good, but the studios have been having a little trouble securing carriage deals.
Comcast
even went as far as to say that they are not looking for any new TV-with-fee channels.
Epix only currently has a deal with
Verizon FiOS
, meaning the site will be available to a minuscule 2.5 million US citizens. The company is in talks with
Dish
, which would add 14 million households, but currently the talks are just that, talks.
Viacom CEO Philippe Dauman is completely faithful in the business model however, and says it will be "cash positive at the end of next year or early the following year."
Lionsgate CEO Jon Feltheimer agrees:
"We have the right idea and the right value proposition. We're investing in a channel that should have big equity value."