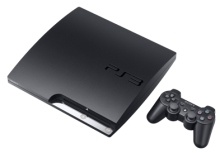 Sales of
Sony
's
PlayStation 3 (PS3)
consoles last week in Japan totaled 51,055, toughly an 8 percent drop from 55,344 units the week before. The result is relatively stable considering the release of the PS3 Slim had driven sales up to 151,000 units suddenly in the country, leading to some speculation about whether the console would see a lasting boost from the new model.
The only gaming hardware to outperform the PS3 last week was, unsurprisingly, the
Nintendo DSi
handheld console, which moved 66,073 units during the week. The older
DS Lite
, sold 13,555 units. Nintendo's
Wii
console dropped to 16,698 unit sales from the 17,568 sales the week before.
Xbox 360
sales
sunk from 7568 sales to 4965
.
Pokemon Soul Silver
and
Pokemon Heart Gold
, both for the
DS
platform, topped the gaming charts in the country, followed by
Tales of Vesperia
for the PS3 and
Jikkyou Powerful Pro Yakkyuu Portable 4
for the
PSP
.