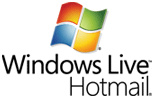 Neowin
has reported this morning that they have received information that login details for over 10,000 Windows Hotmail/Live accounts have been leaked, in one of the largest breaches for the email service ever.
The list begins with the username ararat973@hotmail.com and finishes with blando2713@hotmail.com, with many A-B usernames in between. There are names using Hotmail, MSN, and Live (@live.com etc).

The alleged breach has been reported Microsoft's Security Response Center who has not made any official announcement except to say they are "investigating the situation and will take appropriate steps as rapidly as possible."

Of course, 10,000 is not a large number, given their are 450 million Windows Live accounts currently active, but it may still be prudent to change your password, especially if your username starts with an A or a B.