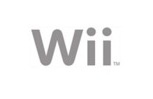 In June,
Nintendo released the Wii console with a black colorway in Japan
and the company has announced today that the same limited edition console will be headed to Europe for the holiday season.
The
Wii
launches on November 6th in both the UK and Ireland and will carry an MSRP of £179.99. The system will come bundled with
Wii Sports
Resort, original Wii Sports, black Wii remote with Motionplus and a black Nunchuk controller.
Adds
Nintendo
UK product manager for Wii Rob Lowe:
"Nintendo has always taken the European market seriously and this isn't the first time a product has launched in the UK or Europe before the US. We are keen to launch the black Wii in time for the Christmas sales season and this starts slightly earlier in the UK and Republic of Ireland [than elsewhere]."