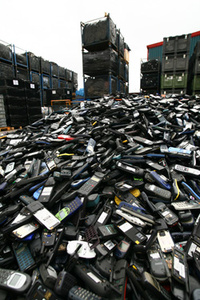 The
International Telecommunication Union (ITU)
, a body of the
United Nations (UN)
, has approved a universal mobile phone charger that will work with all future handsets.
The body says that over 51,000 tons of redundant chargers are used or thrown out each year and that the new energy-efficient chargers will reduce greenhouse gas emissions by 13.6 million tons, each year.
Because many companies such as
LG
and
Samsung
use proprietary chargers, users throw out their chargers when they switch phones, leading to waste. The new universal chargers would allow users to keep just one charger for years at a time, even if they choose to upgrade their handsets.

"This is a significant step in reducing the environmental impact of mobile charging,"
added Malcolm Johnson, director of ITU's Telecommunication Standardisation Bureau.
"Universal chargers are a common-sense solution that I look forward to seeing in other areas."
The new charger will be micro-USB, used today in most
Motorola
and
HTC
handsets. The technology is the same that is used by most digital cameras.
Unfortunately manufacturers have to volunteer to accept the new charger, and it is likely many will not given the amount of money they make off selling overpriced proprietary chargers.