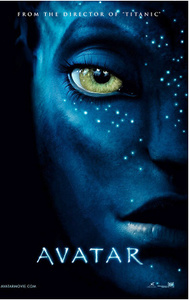 Avatar
, the epic blockbuster from director James Cameron was released today worldwide but some viewers of German midnight showings were foiled by
DRM
, when the protection system caused the video to not be decoded for the digital 3D showing.
Originally reported by
Heise.de
, the digital 3D copies sent to German theaters had problems with its encryption and therefore could not be decoded.
TorrentFreak
says
"the complex DRM system, which involves several certificates and server-delivered time-sensitive keys for hard drives and projectors, failed in a way consistent with the movie's epic status. Unfortunately, after working for several hours cinema workers failed to decrypt 150 gigabytes of data, which resulted in at least one location reverting back to the 2D version."
"We regret the failures and the associated discomfort, but we are confident that we will be able to play the premiere both in 2D and in 3D,"
added Oliver Fock, general manager of CineStar group.