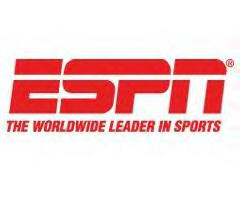 ESPN
has announced that the popular sports network will be launching
ESPN 3D
in June, in time for the 2010 Soccer World Cup. The company says it is the first "all 3D" TV channel.
ESPN 3D will show off 85 live sporting events in its first 12 months, but there will be no older programming. That being said, when those 85 events are not running, the station will just remain dark, with nothing playing. The events will include the Summer X Games, NBA basketball matches, and NCAA football/basketball matches.
ESPN has committed to the station for the first year only, through June 2011.
"We're going to assess the viability of this as we did with all our businesses,"
adds Sean Bratches, an ESPN executive vice president for sales and marketing.
To recieve the channel you will obviously need a new 3D-capable TV, like the ones set for release later this week at the
CES
event.
It is unclear whether you will have to pay a premium for the channel, and whether or not your cable company will need to provide new set-top boxes or just
firmware
updates.
"We don't have all the answers,"
says Chuck Pagano, ESPN's executive vice president for technology, via
USAToday
.
"We asked the same questions back in the HD days. Is this going to be better? Is this going to be worse?"