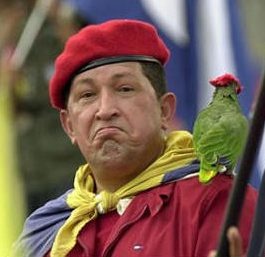 Venezuela's
Hugo Chavez has signed into effect a new anti-violent video game law that makes it a crime to import "violent" video games, with offenders being forced to pay a heavy fine or even spend up to five years in prison.
Gamethirst
has translated the "Ley para la Prohibición de Videojuegos Bélicos y Juguetes Bélicos" (Law for the banning of violent video games and toys) and posted it (reposted here):


1. Violent video games: Video games or programs that can be use on personal computers, arcade systems, video game consoles, portable devices or mobile telephones, or any other electronic or telephonic device, that contain information or images that promote or incite violence and the use of weapons.

2. Violent toys: Objects or instruments that in form mimic any kind of weapon used by the National Bolivarian Armed Forces, weapons of war used by any other nation, citizen or state security forces, as well as those that, though not promoting war, establish the kind of game that stimulates aggressiveness or violence.

Article 13. Those who in any way promote the purchase or use of violent toys or video games as defined by this law will be punished with a fine of between 2,000 and 4,000 tax units.

Article 14. Those who import, manufacture, sell, rent, or distribute violent toys or video games will be punished with 3 to 5 years in prison.
The law seems pretty clear, distribute these violent video games and spend time in a Venezuelan prison.