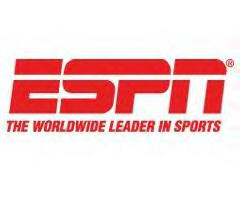 Previously run as "ESPN360.com," the sports network has relaunched the site as
ESPN3.com
today, with optimized Flash 10 video quality as well as new social networking features.
Says ESPN of the new features:
* New Viewing Modes – Multiple options to watch live events, including picture-in-picture and split screens;
* New Scoreboard Module – Up-to-the-minute scores from hundreds of sports leagues from around the world;
* Stats – In-depth event stats that allow fans to track the event they're watching;
* Chat – Interact with other fans watching the game;
* Enhanced Schedule – Users will be able to find a specific event via improved navigation;
* Social Networking Tools –Update your Facebook and Twitter status.
Additionally, starting later in April and then in June, the company will offer "downloadable enhancements" such as:

* More HD-quality streaming with the NBA Playoffs followed by the 2010 FIFA World Cup and 2010 US Open tennis;
* DVR functionality where fans will be able to pause, rewind and fast forward through live programming;
* A Key Plays feature where users will be able to jump to key scoring plays and pivotal moments at any time during the game.