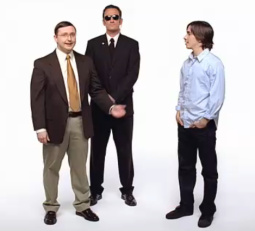 According to Justin Long, the "Mac" in
Apple's
popular Mac vs. PC commercials, the ad campaign may be close to its conclusion, ending one of the more effective ad series in history.
Long said that he heard from "PC" John Hodgman that
Apple
is planning to move on.
"You know, I think they might be done,"
said Long about the future of the campaign.
"In fact, I heard from John, I think they're going to move on. I can't say definitively, which is sad, because not only am I going to miss doing them, but also working with John."
Although he seemed sure, Long would not guarantee the end of the campaign and could not provide any reasons why Apple would end it.