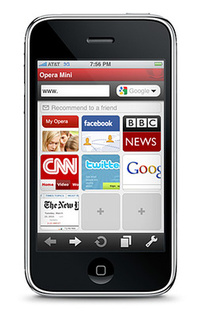 Submitted last month
, the
Opera Mini 5
application has been accepted by
Apple
into the App Store, and is now available for free download.
There are over 50 million Opera Mini users globally and the Opera Mini app was initially rejected when it was submitted last year.
Opera Mini uses Opera's servers to render and compress pages, thus increasing speed for the end user, and also working around Apple's stringent rules.
The company says users of the iPhone over AT&T's slower 2G
Edge
data will definitely feel the "uptake in speed."
"We are delighted to offer iPhone and iPod touch users a great browsing experience with the Opera Mini App,"
added Lars Boilesen, CEO of Opera.
"This app is another step toward Opera's goal of bringing the Web to more people in more places."