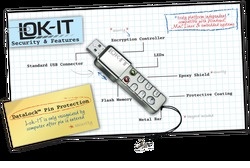 LOK-IT
has unveiled their latest
Secure Flash Drive
, a portable drive with a full PIN keypad.
There are two versions available, one with a five-key PIN, or a second with ten keys. Both drives use 256-bit
AES
encryption and remain encrypted until the correct PIN code is typed in.
The drives can be used in Windows, Mac or
Linux
computers.
Anyone trying to brute
force
hack the PIN number will be stopped in their tracks, as after ten failed attempts the drive must be reformatted.
There are 2GB, 4GB, 8GB and 16GB capacities available.