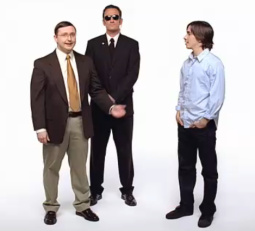 Last month
, Justin Long, the "Mac" in
Apple's
popular Mac vs. PC commercials (officially "Get A Mac"), said the ad campaign may be close to its conclusion, ending one of the more effective ad series in history.
He said he had heard from "PC" John Hodgman that
Apple
was planning to move on.
Today,
it appears
that prediction has come true, as
Apple
has officially ended the series of ads, the last of which played in October of last year.
The "Get A Mac" series has been replaced on the Apple site by the "Why You'll Love a Mac" page, which markets Macs over PC counterparts, claiming: "Better Hardware, Better Software, Better OS, Better Support, and It's Compatible."
All of the ads have been removed as well and it is unclear if the ads will play on TV anytime in the future.