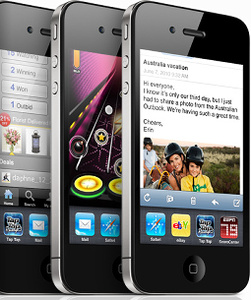 Steve Jobs
moved on from discussing the
Apple App Store
to the company's
iPhone
products. According to Jobs, iPhone now has 28 percent of US smartphone market, behind
RIM
at 35 percent. In terms of mobile web browsing, the iPhone commands a 58 percent market share.
Joking that some attendees have
"already seen this,"
Jobs moved on to introduce
iPhone 4
, saying it has 100 new features. The iPhone 4 is 9.3mm thick, about 24 percent thinner than the iPhone 3GS was. It includes a
micro-SIM
tray, a new camera on the back with an LED flash and new front-facing camera. It also adds a second mic on the top for noise cancellation purposes.
The new 5
megapixel
camera features 5x digital zoom and adds
720p
HD
video
capture
at 30
frames per second
. Apple also will be releasing an iPhone version of its
iMovie
video editing software that will make it possible for users to record and edit video. It will be available for $5.
Three antennas are integrated into the design; one for
UMTS
and
GSM
, one for
Bluetooth
and one for
WiFi
and
GPS
. The phone supports
802.11n
wireless networking and quad-band HSPDPA/HSUPA networking which theoretically can support 7.2Mb/s download and 5.8Mb/s upload. Jobs joked that these figures are theoretical because carriers don't support them just yet.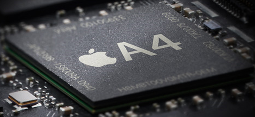 Driving the new iPhone is the Apple-designed
A4
chip which puts an emphasis on power management and space saving. Combined with the new battery, Apple says this will boost talk time to 7 hours. The battery can provide 300 hours standby time, 10 hours WiFi web browsing, 40 hours of music, 10 hours of video or 6 hours 3G web browsing.
The device keeps a 3.5-inch display but pushes the
resolution
to 960x640, amounting to 4 times more pixels than the previous model. The pixel-per-inch count of 326 is a big improvement over the previous 163 pixels-per-inch achieved with iPhone 3GS, and made possible with the new
"Retina Display"
technology.
Showing more confidence in the platform for gaming, iPhone 4 adds a three-axis gyroscope. In addition to the accelerometer, it provides the iPhone with six-axis motion sensing. Developers can also utilize new
CoreMotion API
for position information.
For Jobs' infamous
"One More Thing"
moment, he demonstrated video chatting capabilities using either camera on the device in landscape or portrait mode. However, the video chatting feature, called
FaceTime
, is only supported between iPhone 4 handsets over WiFi for now at least for the rest of the year, most likely due to cellular provider limitations.
The iPhone 4 will become available in black and white, priced at $199 for a 16GB model and $299 for a 32GB model (same
AT&T
contract, but Jobs said that AT&T would be making a generous upgrade offer). The iPhone 4 goes on sale in the United States, United Kingdom, Germany and France on June 24 before rolling out in other countries over the coming months. Pre-orders begin June 15. (Images below, click to enlarge.)