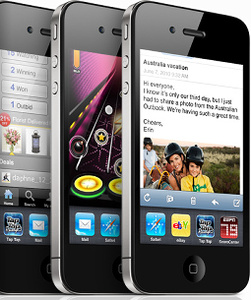 Apple
has announced that it will hold a surprise press conference on Friday to address antenna issues with the iPhone 4 handset. The issue has plagued the iPhone 4 launch, which originally looked like a complete success. Whilst features like its display and video recording quality have received considerable praise, the antenna issue has been a thorn in Apple's side and a threat to its sales.
Apple spokesman
Steve Dowling
made the announcement late on Wednesday. The press conference will be
held at 10am on Friday at Apple's headquarters in Cupertino
. He declined to give any details about how Apple plans to address the problem. The company is facing at least three lawsuits related to the issue, which causes signal loss when the device is held in a certain way.
After appearing to dismiss or ignore the problem, the company has only caused itself more public relations damage, turning a possibly minor issue into global headline news. Analysts don't expect Apple to announce a full recall, but urge the company to at least offer free iPhone cases that will fix the antenna issues or find another way to make the problem go away for end users.
The company sold 1.7 million iPhone 4 models in the first three days of availability, but concerns of the signal reception of the handset arose early and only became more prominent. Apple at one point issued a statement blaming the signal loss on a software glitch that misreported signal strength.
Consumer Reports
announced on Monday that it would not give its recommendation for the iPhone 4 due to the antenna issue, whilst still giving it top marks for other features. The influential publication indicated that it will only recommend the iPhone 4 model when Apple provides users with a free and permanent fix for the problem.