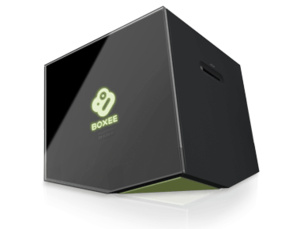 Boxee
CPO Zach Klein has released a video today showing off a production model of the highly anticipated
Boxee Box
.
The video implies that Boxee will begin mass production on the box now, with a release date not too far in the future.
Boxee's "sinking box" design is still intact, but it has been given a slightly more refined look and a more fingerprint-resistant finish.
The Box is a media hub, as well as a
set-top box
, whose primary purpose is to stream music, photos and video from within a local network or use
streaming
services such as
Pandora
and video sites.
Boxee Box uses a fast NVIDIA Tegra
chipset
, which will allow for
1080p
video playback and hardware-accelerated Flash 10.1.
The hardware is expected to sell for $180.
The first Boxee Box arrived from the D-Link Factory from Zach Klein on Vimeo.