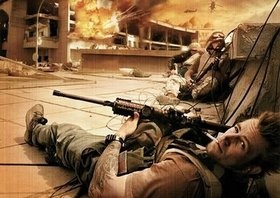 In late May we reported that "Hurt Locker" producer
Voltage Pictures
was suing thousands of alleged pirates
for downloading the film online.
Voltage sued 5000 unidentified pirates accused of downloading the 2009 Best Picture, and the company said a lot more were coming.
The movie was leaked to the Internet, in full
DVD
quality, about 6 months before its nationwide release in the U.S. Despite winning Best Picture, the film only grossed $17 million USD domestic in theaters.
Voltage is backed by the
U.S. Copyright Group
, a group devoted to suing alleged pirates on behalf of independent film production companies.
After the pirates were identified by their IP addresses they were sent letters demanding $1500 to settle. If the case eventually goes to court, Voltage says it will be seeking $150,000 in damages.
The U.S. Copyright Group will begin the second round of lawsuits starting August 1st, says
THR
, with up to 45,000 more suits expected.
We will keep you updated.