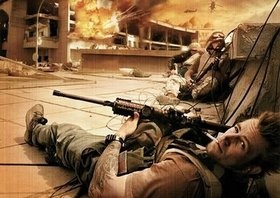 In early May we reported that "Hurt Locker" producer
Voltage Pictures
was preparing to sue thousands of alleged pirates
for downloading the film online.
This week, that suit has come to fruition, with Voltage suing 5000 unidentified pirates accused of downloading the 2009 Best Picture.
Says the suit:
"A Defendant's distribution of even one unlawful copy of a motion picture can result in the nearly instantaneous worldwide distribution of that single copy to a limitless number of people. The Plaintiff new seeks redress for this rampant infringement of their exclusive rights."
The movie was leaked to the Internet, in full
DVD
quality, about 6 months before its nationwide release in the U.S. Despite winning Best Picture, the film only grossed $17 million USD domestic in theaters.
Voltage, backed by the
U.S. Copyright Group
,
will begin to subpoena ISPs this week
to identify the persons behind the IP addresses that were used to download the unauthorized film copy.
After the people have been identified, they will be sent letters demanding $1500 to settle. If the case eventually goes to court, Voltage says it will be seeking $150,000 in damages.