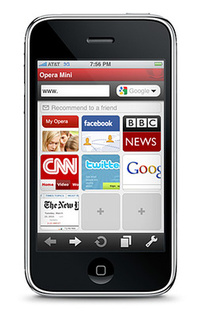 On April 13th, the
Opera Mini 5
application was accepted
by
Apple
into the App Store, and the free browser
saw 1 million downloads
on its first day.
As of April,
says Opera
, there are now over 58 million Opera Mini users globally.
Opera Mini uses Opera's servers to render and compress pages, thus increasing speed for the end user, and that tactic was what allowed the browser to be accepted to the App Store.
The iPhone is now the most popular Opera device used in the U.S., beating out the entire
RIM BlackBerry
line. Despite a much smaller market share, it is also now the 5th most popular device running the browser in the UK, as well.
While many of the millions that have downloaded the browser may done so just to test it, U.S. downloaders were the most likely to keep using it.
Concludes Opera:
"As predicted in last month's report, the Apple iPhone is the #3 device used by Opera Mini users worldwide in the month of April 2010."