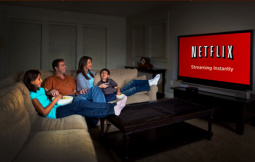 While some lucky users have had the ability for months,
Netflix
has updated their
PS3
-based
Watch Instantly
service to include a Search function for all users.
Until this week, the search function for the PS3 was an assigned random beta.
A search function was easily the most-wanted feature for the service, eliminating the need to find and queue movies on your computer or smartphone before using the service.
The company has said it will add similar functionality to the
Xbox 360
(and possibly
Wii
?) in November.
Additionally, CEO Reed Hastings noted that PS3 users may be able to soon ditch the
streaming
Blu-ray
disc that must stay in their drives to use the service, as a disc-free version of Watch Instantly software for the PS3 could be available in October.
Says Hastings
:
"We expect to be launching a major new version of our Sony PS3 user interface which doesn't require a disc, and is dynamically updated continuously with the latest Netflix UI improvements."