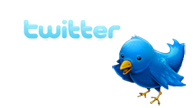 A
Twitter
user in Tokyo
has posted the 20 billionth tweet
in the history of the micro-blogging site, four years after the service launched.
The popularity of the service has grown exponentially over the past year, with the 10 billion mark being hit just five months ago.

15 million was hit in June, riding the heels of the World Cup tournament's huge popularity.

Twitter blogged recently that the service adds 300,000 new users every day, on top of the 120 million registered users it already has.

In February, the service said it was seeing 600 tweets per second, which moved to as high as 3000 a second during the World Cup. In 2007, when the site was still in its infancy, there were about 5000 tweets per day.