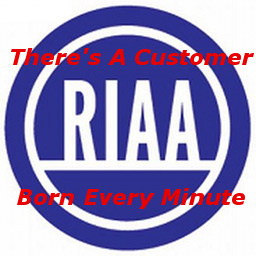 Record label representatives have been caught issuing DMCA takedown notices for Radiohead's
In Rainbows
album despite apparently not having any legal standing to do so.
Radiohead released
In Rainbows
online in 2007 after severing their relationship with EMI. It was
initially offered online
, with downloaders allowed to choose their own price - even if they chose to pay nothing.
The DMCA's takedown provision allows rights holders or their agents to have infringing content taken down by service providers. But the rights in question would have to be for digital distribution.
A few months after it's initial online release, the band made a distribution deal with a
RIAA member
, ATO Records, which doesn't seem to include any digital distribution (ie download) rights.
In fact it appears that Warner/Chappell Music, a publishing company owned by Warner Music Group, is contracted to be Radiohead's representative in digital licensing. Although public details of the arrangement are somewhat vague, Last.fm lists the company as
the label
for
In Rainbows
.
A guick search of the Chilling Effects database shows that the RIAA has included the album in at least one
DMCA takedown request
.
Another takedown notice which includes the album comes
from the RIAA's international equivalent
, IFPI, which ATO Records
isn't even affiliated with
. Even stranger is the frequent listing of
In Rainbows
in takedown notices by a Brazilian anti piracy organization called Anti-Pirataria Cinema E Música (APCM).
As a publishing company, rather than a normal label, Warner/Chappell Music isn't a RIAA member. It's unclear at this time whether they have any affiliation with APCM.
How does something like this happen? It's possible there is malicious intent involved, but more likely it's a case of sloppy work by RIAA and IFPI employees.
Since both organizations represent Radiohead's former label, EMI, unless they were actually checking the files to make sure they were covered by the band's earlier contract they wouldn't be able to tell the difference.
Ultimately this points to a basic failure of the DMCA. The only penalties for misrepesentations in a takedown notice is liability,
"for any damages, including costs and attorneys' fees, incurred by the alleged infringer, by any copyright owner or copyright owner's authorized licensee, or by a service provider."
This is an extremely backward position as it results in no incentive for organizations like the RIAA or IFPI to actually
fact check their claims
for legitimacy before threatening service providers.
In this case there isn't even any real recourse for Radiohead themselves since it would be impossible to show any financial damages. Were it an RIAA member whose rights were being falsely claimed by someone else, you can be sure they would characterize this as a crime against society.