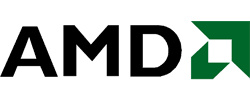 AMD
has quietly dropped the prices on their CPUs this week, affecting some of their desktop processor line.
The processors saw anywhere from a $3-to-$22 drop.
AMD dropped the price of the
Athlon II X4 640
by $22, the most of any processor, from $122 to $100.
A few of their most expensive Phenom II processor had prices cut, as well, with the
Phenom II X4 955 Black Edition
and
Phenom II X4 965 Black Edition
dropping by $20 each.
Motherboard industry sources say the price drops are due to AMD trying to defend against increased competition from
Intel
, which owns 80 percent of the market.
Chart via
TechReport
: