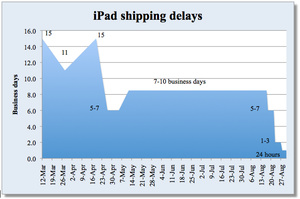 Fortune
has reported today that
Apple iPad
orders are finally shipping within 24 hours, the first time the tablet has shipped within a day since its launch in April.
It took 170 days for supply to catch up to demand on the popular tablet.

Apple has been struggling to get production moving since the iPad sold out during launch weekend.

The iPad 3G launch was pushed back a few weeks and the international rollout of the tablet was pushed back a full month.

Orders from Apple.com, at their worst, had shipping delays of 15 business days. By May, that number had dropped to 7-10 and by July it had hit 3 days.

The iPhone 4 still has a three-week delay.