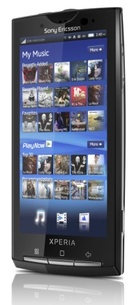 Sony Ericsson
launched the high end smartphone
Xperia X10
earlier this year which disappointed would-be buyers when it came with the outdated
Android
firmware
version 1.6.
In May, the company noted that it would possibly update the smartphone to Android 2.1 in the Q4, and today they have confirmed the update.
Posting via Twitter, SE UK
has said
it will begin rolling out the 2.1 update in September, earlier than expected.
Coming with 2.1 for the X10 are
HD
video recording, Wireless home connectivity via DLNA and improvements to signature applications Timescape and Mediascape to make them even smarter and richer.
The X10 has a 1GHz Snapdragon processor, and a 4-inch 854x480 touchscreen which until now, did not have official multi-touch support.