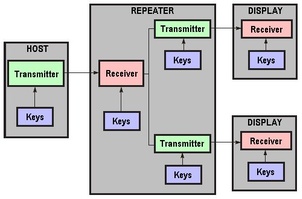 According to multiple
sources
, hackers have released the
HDCP 'master key'
this week, cracking the copy protection permanently.
High-Bandwidth Digital Content Protection's
main focus is to stop the unencrypted transmission of
high definition
video content from a source like a
Blu-ray
player and a display monitor / TV set. HDCP is used with the Digital Video Interface (
DVI
),
DisplayPort
and High Definition Multimedia Interface (
HDMI
) .
HDCP is required for all equipment that uses a HDMI connection. Since HDCP is a proprietary technology, it requires a license to be implemented and as part of the license agreement, a manufacturer must agree to limit the capabilities of the other video outputs on a device. This means that in effect, a movie disc can instruct a source player to downgrade the video quality if a user attempts to transmit high definition video content through a connection that doesn't feature HDCP.
With the master key released, anyone can now create their own source/sink keys.
You can view the original post here:
HDCP Master Key