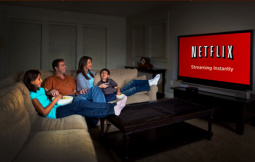 Netflix
CEO Reed Hastings is in Canada this week, as part of the company's launch of a new online video subscription service.
The new service will give Canadians a chance to stream thousands of movies and TV shows for a set monthly fee.
Expanding to Canada marks Netflix's first move to a foreign nation.
Apple
and
Boxee
are also preparing Canadian launches in the near future.
Netflix in Canada will only include
streaming
, with no physical media rentals plans in the works.
Hastings
does say
there could be some issues:
"In Canada, the challenges are licensing the right content... and then taking advantage of the right marketing channels at the right cost."