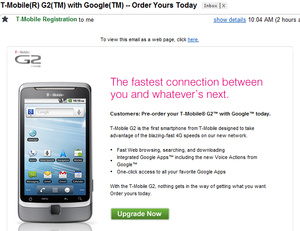 Despite
Best Buy
having the device up for pre-order for a couple of weeks,
T-Mobile
had not yet officially put the flagship
G2
up for sale.
That has changed this week, with existing
T-Mobile
smartphone owners being sent an email offering them the chance to pre-order directly from the carrier.
The G2 will be T-Mobile's first device to support HSPA+, the carrier's very fast 3.5G/4G data network.
Furthermore, the device will have an 800MHz Snapdragon MSM7230 processor, which has the HSPA+ support built-in. While slower than current 1GHz chips, the processor can still record
720p
video and handle Flash videos.
The G2 will also run a stock Android 2.2 (with no custom UI) and will have Swype as the default keypad.
Made by
HTC
, the phone has a 3.7-inch multi-touch screen, an optical trackpad, a 5MP camera with LED flash, 4GB of internal memory and an extra 8GB
microSDHC
card.
Upgrade price is $200 with contract, $500 without.