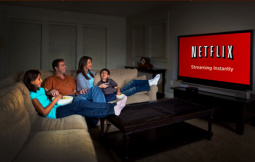 Netflix
CEO Reed Hastings has
said
today that the company may offer a streaming-only plan for the United States, cutting out the ability to receive physical media in the mail.
The subscription would be cheaper than Netflix's current plans, which are $8.99 minimum for renting and
streaming
and would give users a chance to access 15,000 movies and shows via
Watch Instantly
.
"A cheaper subscription plan could be more attractive to new (subscribers) and it would also likely carry higher gross margins and potentially even higher gross profit (over time), given the extremely low cost of delivering streaming content,"
adds analyst Douglas Anmuth of Barclays Capital in a research note.
The rental company recently signed a multi-year deal to increase its NBCU streaming content, including all the seasons of "Eureka," "
The Office
," "Battlestar Galactica," and others. Additionally, Saturday Night Live episodes will be available the day after they air.
Hastings noted that 60 percent of Netflix's 15 million subscribers used the streaming service last quarter, on
desktops
, the iPad/iPhone, gaming consoles and a number of
Blu-ray
players and set-top boxes.