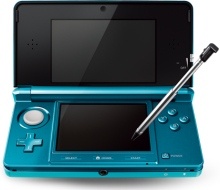 Following months of speculation,
Nintendo
has finally revealed the release dates for its upcoming
Nintendo 3DS
handheld.
President Satoru Iwata says the 3DS will hit Japanese stores on February 26th, 2011, and then the US/European markets one month later.
In Japan the handheld will retail for ¥25,000 (about $300 USD) but the prices for the European and American models were not revealed.
At launch, the system
will be available
in "Aqua Blue" and "Cosmo Black" colorways.
The company also revealed the first 10 launch games for the system which are: Legend of Zelda: Ocarina of Time 3D, Nintendogs + Cats, Pilotwings Resort,
Pro
Baseball Spirits, Professor Layton and the Mask of Miracle, Ridge
Racer
3D, Samurai
Warriors
Chronicle, Steel Diver,
Super
Monkey Ball, and Super Street Fighter IV: 3D Edition.
Nintendo will be bundling the console with a 2GB
SD
card used for downloadable content and will have a "Virtual Console" service for Game Boy and
Game Boy Advance
titles.