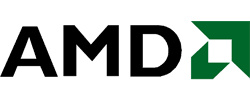 At an industry conference in Barcelona on Wednesday,
Advanced Micro Devices (AMD)
chief executive
Dirk Meyer
revealed that the company is not officially up for sale.
"AMD is not for sale, but we are happy to listen to any proposal which is in the interest to our shareholders,"
Meyer said.
The comments came in response to a question about Oracle's plans to increase its interests in the space. Oracle CEO
Larry Ellison
said that the company is keen to make acquisitions and that a microchip company would be an ideal buy.
AMD is the world's second largest manufacturer of x86 architecture-based microprocessors, behind
Intel
Corp. The company is likely to encounter increasing opposition from ARM microprocessors that are predominant in tablets, smartphones and other portable devices.
"I don't really view ARM as a threat,"
Meyer said
. He said he still sees major growth opportunities in the industry. AMD has been hurt by weak demand for new personal computers in recent times, but Meyer said the company was working to reclaim market share it has lost to Intel in the area with a new line of
"Fusion"
chips, combining graphics and computing power.