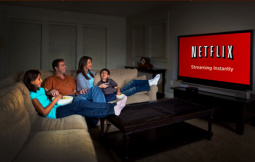 In July,
Netflix
CEO Reed Hastings made it clear that a disc-free version of
Netflix
was headed to the
PlayStation 3
by the end of the year.
Today,
Sony
says users will be able to access the content without a disc by the end of the month.
Social Media Manager Jeff Rubenstein had
this
to say when asked about a timeframe for the new app:
"It's this month, but we don't have a date to announce at present."
It was initially promised before Netflix's quarterly earnings, which is on the 20th, so most believe the update will hit the console on the 19th, which is also when the U.S.
PlayStation Store
updates.
Hastings also said the update will bring about a new UI.