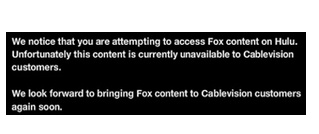 Although access has been restored, it appears that earlier in the day
Fox
blocked their content on
Hulu
to
Cablevision
subscribers, following the dispute between the two companies over retransmission fees.
Following months of negotiations with no
resolution
, News Corp. blacked out their Fox broadcast signal to over 3 million Cablevision subscribers in metropolitan New York and Philadelphia on Friday.
Sports fans are upset by the turn of events, as Fox is the broadcaster for New York Giants games and the MLB playoffs, where the Yankees and Phillies are in the second round.
Fox was looking for exaggerated fees for their signal that used to be free. Cablevision has so far refused as they do not want to tack on extra fees to consumer's monthly bill. Cablevision says they already pay $70 million per year for Fox's "retransmission fee" but now Fox wants $150 million per year. Cablevision was willing to submit the case to third-party arbitration but Fox refused.
Anybody accessing the Hulu site with a Cablevision IP address
was given the pictured error screen
.