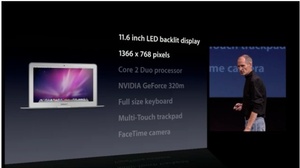 "One more thing..."
Apple
CEO Steve Jobs has just announced that the new rumored
MacBook Air
is a reality.
Jobs asked the crowd:
"What would happen if a MacBook and an iPad hooked up?" "This is the result. One of the most amazing things we ever created. We think this is the future of notebooks."
The updated MacBook Air weighs 2.9 pounds, has a unibody construction, uses flash storage instead of a hard drive and promises 7 hours of battery life with standard use.
As rumored, there will be an 11.6-inch version as well as a 13.3-inch version.
Each model is 0.68 inches at its thickest point and 0.11 inches at its thinnest.
Resolution
is 1440x900 or 1366x768, the computers use Core 2 Duo processors and use GeForce 320m video cards.
The 11.6-inch model comes with 64GB flash and costs $999. The 13.3-inch comes with 128GB flash memory and will cost $1299. A high-end 250GB model will cost $1600.
(Pic via
RWW
)