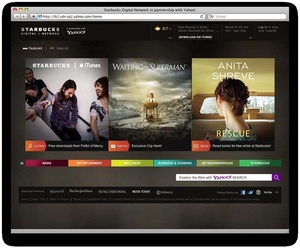 Starbucks
has partnered with
Yahoo
this week to launch the
Starbucks Digital Network
, a Web portal with content that can be accessed only when you are using Starbuck's free Wi-Fi.
The network will launch on Wednesday and will be available in all 6800 Starbucks locations.
Starbucks Digital Network will have six channels: News, entertainment, wellness, business and careers, My Neighborhood, and Starbucks. Additional partners are the Bookish Reading Club, Foursquare, Good, LinkedIn, New Word City, and The Weather Channel.
The free Wi-Fi is accessible via smartphones, tablets and laptops and requires a quick login.
"The team at Starbucks wanted to enhance the time our customers spend in our stores, so we had a vision to create something new, localized, unexpected… and online,"
says
Adam Brotman, vice president of Starbucks Digital Ventures.
"The Starbucks Digital Network was developed to provide customers instant access to a collection of hand-picked premium news, entertainment and lifestyle content along with free downloads, local insights and events from nearly 20 different content providers including iTunes, Nick Jr. Boost, Rodale, WSJ.com and Yahoo! It's all free and only available at Starbucks."
Users of the news section will get content from The New York Times, WSJ.com, and USA Today as well as Yahoo News and Yahoo Sports.