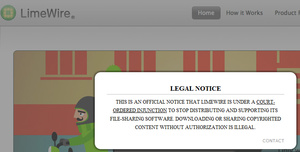 LimeWire
, once the world's most popular
P2P
client, is now officially shut down, following a four-year legal battle against the record industry.
A New York federal court has issued a permanent injunction against the site this week,
ruling
that LimeWire caused a "massive scale of infringement" by intentionally giving users a platform to share millions of unauthorized music tracks.
At its peak, LimeWire was seeing 50 million monthly users.
Visitors to the site are greeted by the pictured "legal notice."
While the company can no longer make unauthorized music readily available, the site says it is now "working with the music industry to move forward."
The court also added that LimeWire should use all available resources to remove all copyrighted materials currently available to downloaders of the client.